When you become ALL DEBT FREE…              then take that beautiful evening walk along the beach…maybe somewhere in Greece.                                                                                   Why not make that dream come true?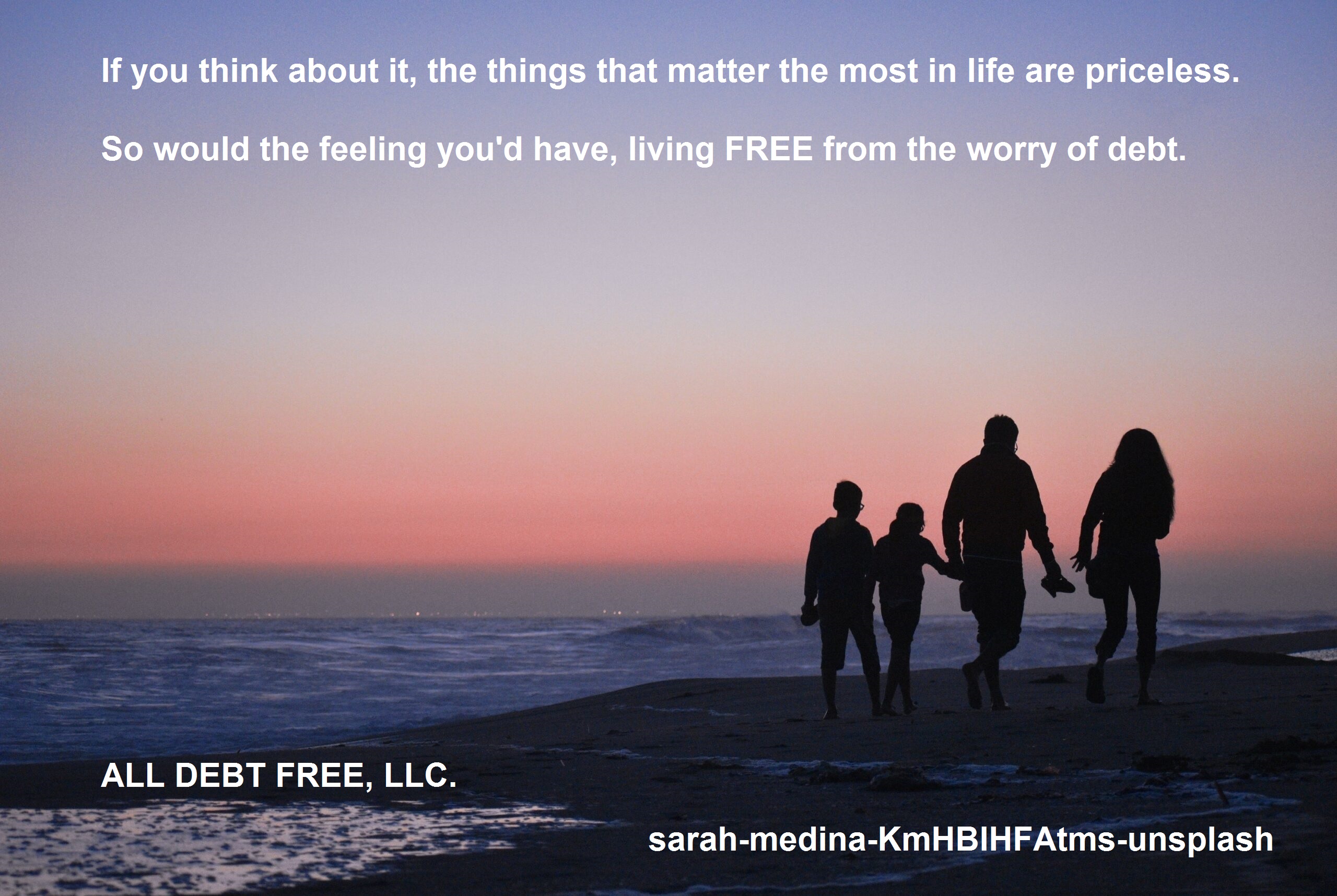 We live in very interesting times.  Things we always relied on–seem to be changing right before our eyes.  We need to take the necessary steps to insure our freedom–and safeguard our assets.
Let's sharpen our focus with some wisdom that refers to the benefit of careful preparation.
Here is some wise advice given a long time ago…an excerpt from THE greatest Book in History–                      
  6Go to the ant, thou sluggard; consider her ways, and be wise: 7Which having no guide,
overseer, or ruler, 8Provideth her meat in the summer, and gathereth her food in the harvest.  From the Book of Proverbs (King James Version)
Question:  What kind of important things should you safeguard, and have quick access to? 
Answer:  ALL the important things.
Consider this…If your house burned down…how could you easily keep financial records and valuables safer? 
True story:  One day, I got a call from a close relative…he told me that a remodeling job he was having done–resulted in starting a fire in his home, due to some poor electrical wiring that was done (wiring not done to code) by the previous owner of the home.  
Fortunately, no one was hurt–but everything was lost.  (Except for what he had in his floor safe, in his bedroom closet.)  All his financial records–gone.  Also all of his family memories–photo albums–gone in the fire.
On a lighter note, lets look at a common set of circumstances that we all experience at some time.  Just for an example, let's say that you want to find your car title because you want to sell your car.  Or, maybe you had a fender-bender–and you need to locate your auto insurance policy–FAST. 
How long would it take you to locate your car title–or where do you keep your auto insurance policy?  If you are like most people, you think it's in a box in either your bedroom–or maybe the garage.   Safe, right?  (Let's hope so.)
Here is the better solution…you use the  $trongBox-TM.  A fire and water resistant organizer system, designed to better safeguard your most important financial documents and valuables.                                   
             Introducing the All Debt Free, LLC.  $trongBox-TM: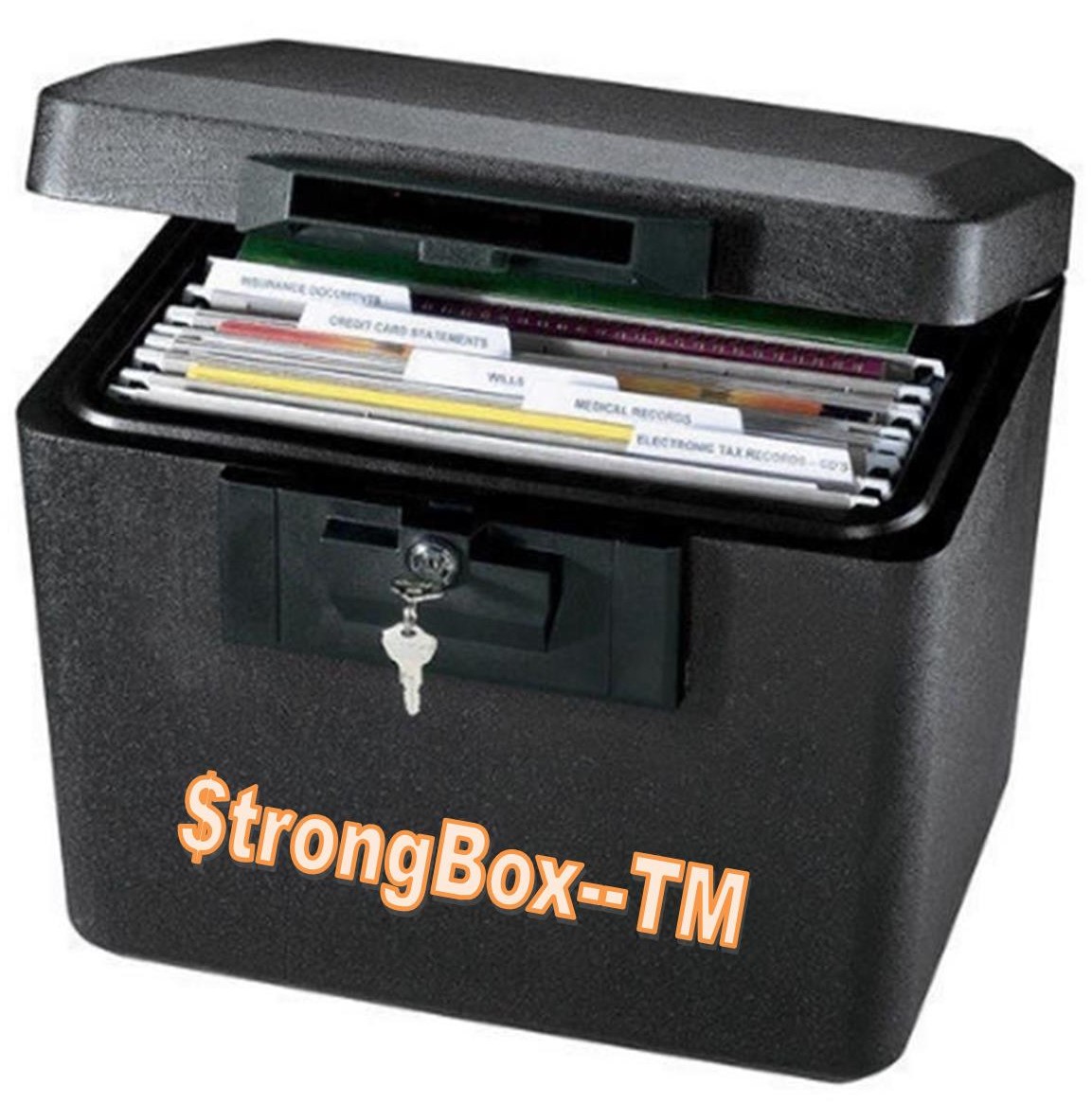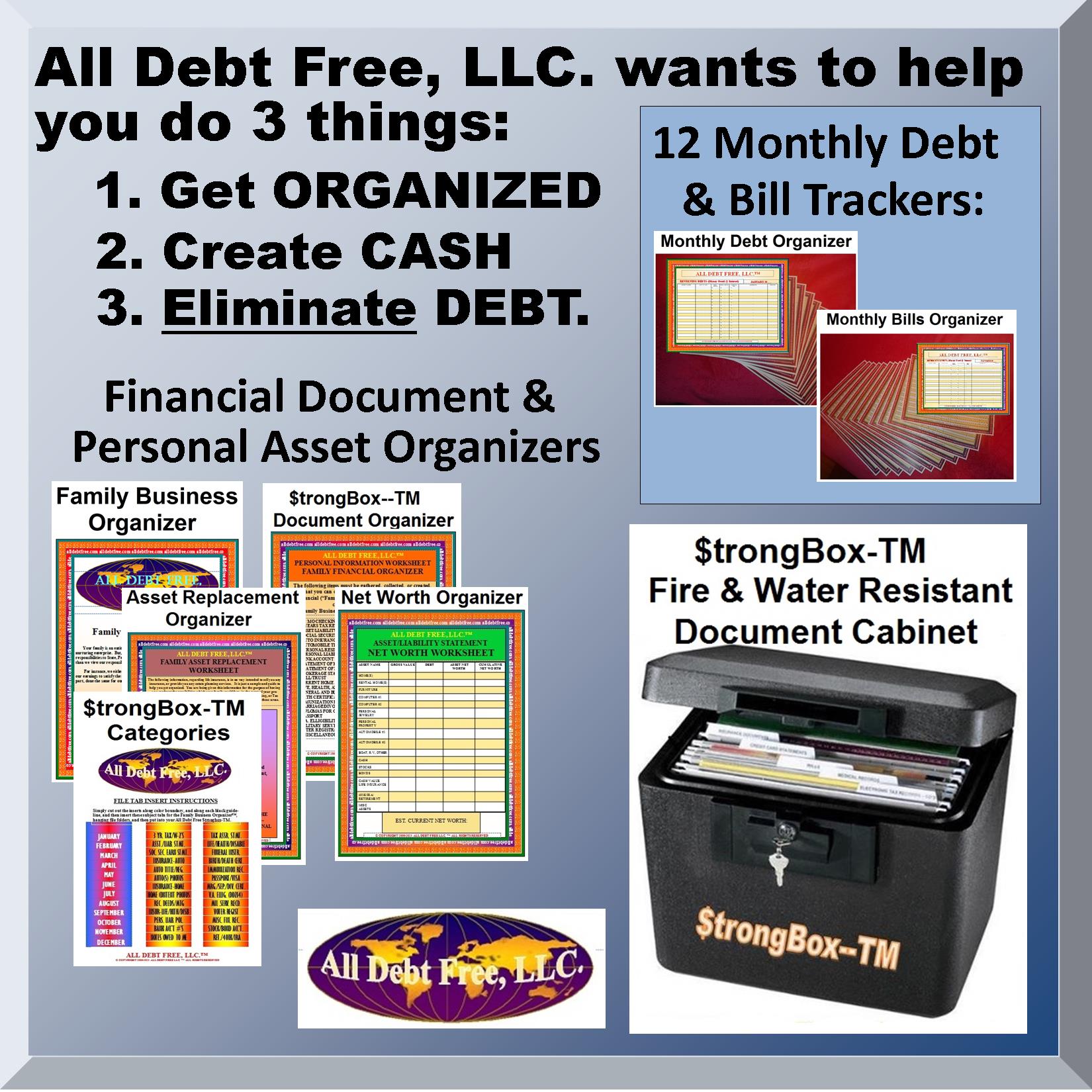 The system we have created, is pretty much a common sense approach for an individual, or a family, to take the steps to locate, gather, and physically protect many valuable and important family business and family financial documents.  When you run through the checklist we have created, many, if not all of the documents are important–and sometimes very hard to replace against loss.  And, there are many things that just can't be replaced.  As an example–family videos or photos, which can be saved on a digital device, a copy of which is easy to duplicate if necessary. 
By the way, the list we have created is by no means all inclusive.  As you start to get your family financial documents located and more safely stored (IN A FIRE AND WATER RESISTANT DOCUMENT CABINET–"$TRONGBOX-TM"), you may come up with many more categories.  That is exactly what we want you to do–each family is different–each set of financial documents will be different–but many will be the same from family to family.
Remember, these are suggestions–but one important suggestion is that you create–and place a COPY–of your Will and/or Trust.  Every family will approach that differently, but what is important is the AWARENESS–and DOING SOMETHING about it–not just wishing you did.
The $trongBox–TM, and the organizer document tools, are available in a package, for $499.00.  Once you become part of our program, you will automatically become an Ambassador for All Debt Free. LLC.  This means that you may, if you like, take advantage of our Ambassador Affiliate Group, where you will be given a unique code, which will allow you to receive a $200.00 fee, for each person who uses your code URL, and becomes part of our group, when they obtain the All Debt Free Package for $499.00.  When you join, you will also receive a FREE GIFT–a 75 page custom report which gives you a blueprint to follow, which can change your life.  We call it our "Debt Out–Cash In Debt Reduction Report.  You can customize this report by choosing a 5 year, 7 year, or 10 year debt payoff report.    We do not charge anything for this report–we send it to you in Digital Form.  You may choose to use the free information–we hope you do.  We showed one particular family that they could get all their debt paid off in as few as 84 months–including their mortgage.  The best part of the results of the report, is that they were projected to save over $60,99
We helped a family with our
"Debt Out–Cash In"
Debt Reduction Plan.                           
By following the information
in the Debt Reduction plan, 
they could end up saving
about

$64,000 in cash
interest, and cut out about
23 years

of house payments.*
*(Note:  For example only–everyone's results and experience may be different.)
TRY BEFORE YOU BUY:  
We want you to become Debt Free–that's our passion. 
Why not take a moment or two–and see how much time–and cash–you could save.  We will create your custom plan–and tell you the savings–BEFORE YOU ORDER!
How fair is that?  If you like the results…then you order the program.
$10,000.00 CASH SAVINGS GUARANTEE–(or the report is free): 
Our "Debt Out-Cash In" Debt Reduction Report shows you a $10,000 minimum that you could save…or we send you the report FREE.
HOW MUCH IS OUR PROGRAM?   
We have 2 versions–Full and Lite:   Full–$299.00 ($149.50)*     Lite:   $149.00 ($74.50)*  
*(You can use coupon code ADF-50, for a 50% discount…hurry, coupon offer ends soon.)
       O.  (866)500-1141  Email:  alldebtfree.questions@gmail.com
Click on the image of our 'Full Version' below to find out how much cash you can save…and how quickly you can become ALL DEBT FREE. Remember, you won't pay us a dime, until you first find out how much cash you are projected to save, and how much time you'd save on your payments…with our "Debt Out-Cash In" Debt Reduction Program.        Find out for Free: 
This presentation and supporting information are for educational purposes and should not be considered legal or financial advice and it is always recommended that you seek the advice of professionals.  You agree that we are not responsible for  the success or failure of your financial decisions relating to any information presented by our company or our representatives.