When you become ALL DEBT FREE…              then take that beautiful evening walk along the beach…maybe somewhere in Greece.                                                                                                      Why not make that dream come true?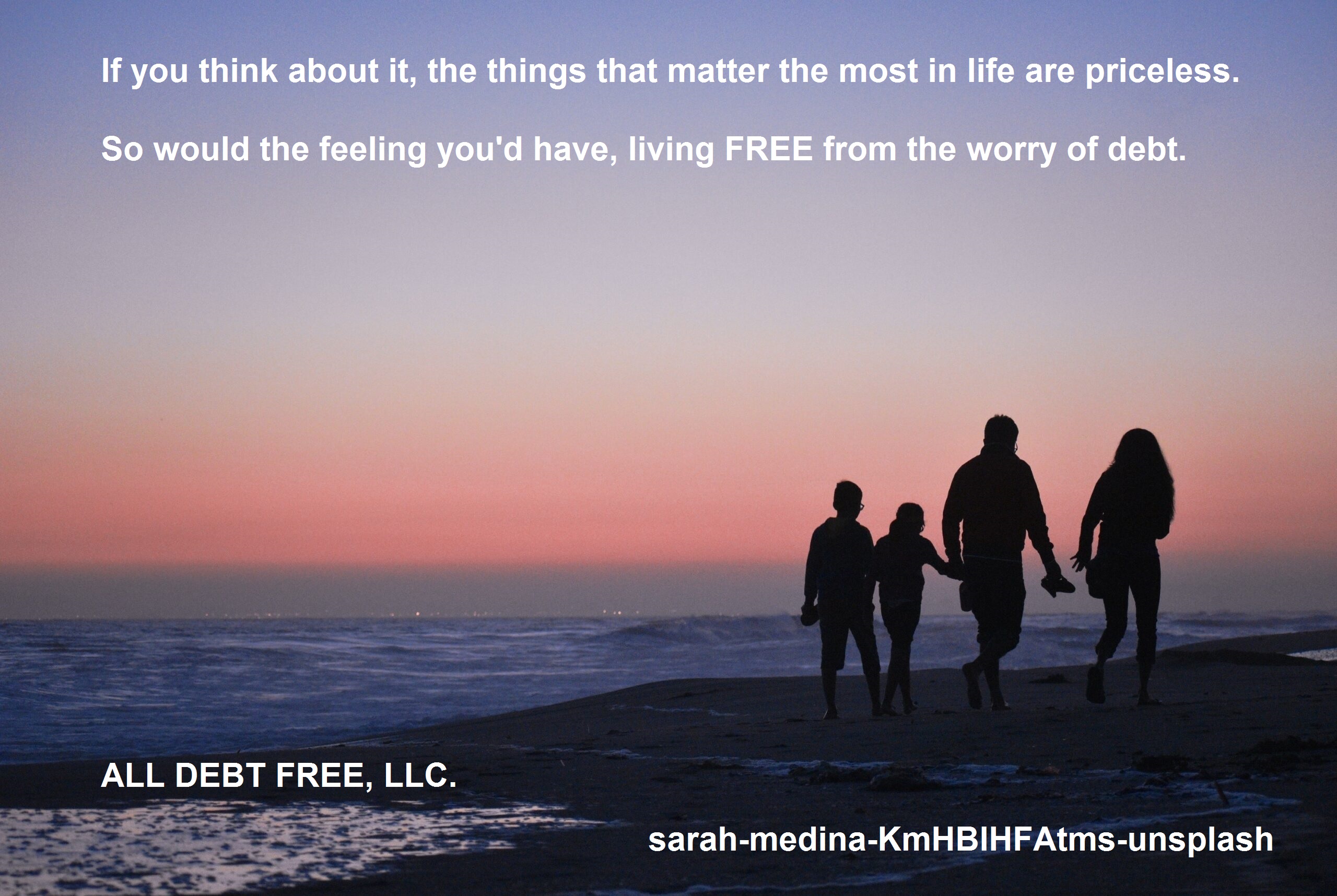 maycouf 
We live in very interesting times.  Things we always relied on–seem to be changing right before our eyes.  We need to take the necessary steps to insure our freedom–and safeguard our assets.
Let's sharpen our focus with some wisdom that refers to the benefit of careful preparation.
Here is some wise advice given a long time ago…an excerpt from THE greatest Book in History–the Bible:                      
  6Go to the ant, thou sluggard; consider her ways, and be wise: 7Which having no guide,
overseer, or ruler, 8Provideth her meat in the summer, and gathereth her food in the harvest.  From the Book of Proverbs (King James Version)
Question:  What kind of important things should you safeguard, and have quick access to? 
Answer:  ALL the important things.
Consider this…If your house burned down…how could you easily keep financial records and valuables safer? 
True story:  One day, I got a call from a close relative…he told me that a remodeling job he was having done–resulted in starting a fire in his home, due to some poor electrical wiring that was done (wiring not done to code) by the previous owner of the home.  
Fortunately, no one was hurt–but everything was lost.  (Except for what he had in his floor safe, in his bedroom closet.)  All his financial records–gone.  Also all of his family memories–photo albums–gone in the fire.
We wouldn't want that to happen to anyone–of course.  But, let's look at a common set of circumstances that we all could experience at some time.  Say, for example, that you want to find your car title because you want to sell your car.  Or, maybe you had a fender-bender, and you need to locate your auto insurance policy–FAST. 
How long would it take you to locate your car title if you need it.  Or, where do you keep your auto insurance policy?  If you are like most people, you think it's in a box in either your bedroom–or maybe the garage.   Safe, right?  (Let's hope so.)
Here is the better solution…you use the $trongBox-TM from                        All Debt Free, LLC. (shown below).  The $trongBox-TM, is a fire and water resistant document and valuables organizer system, designed to better safeguard your most important financial documents and valuables.                                   
             Introducing the All Debt Free, LLC.  $trongBox-TM: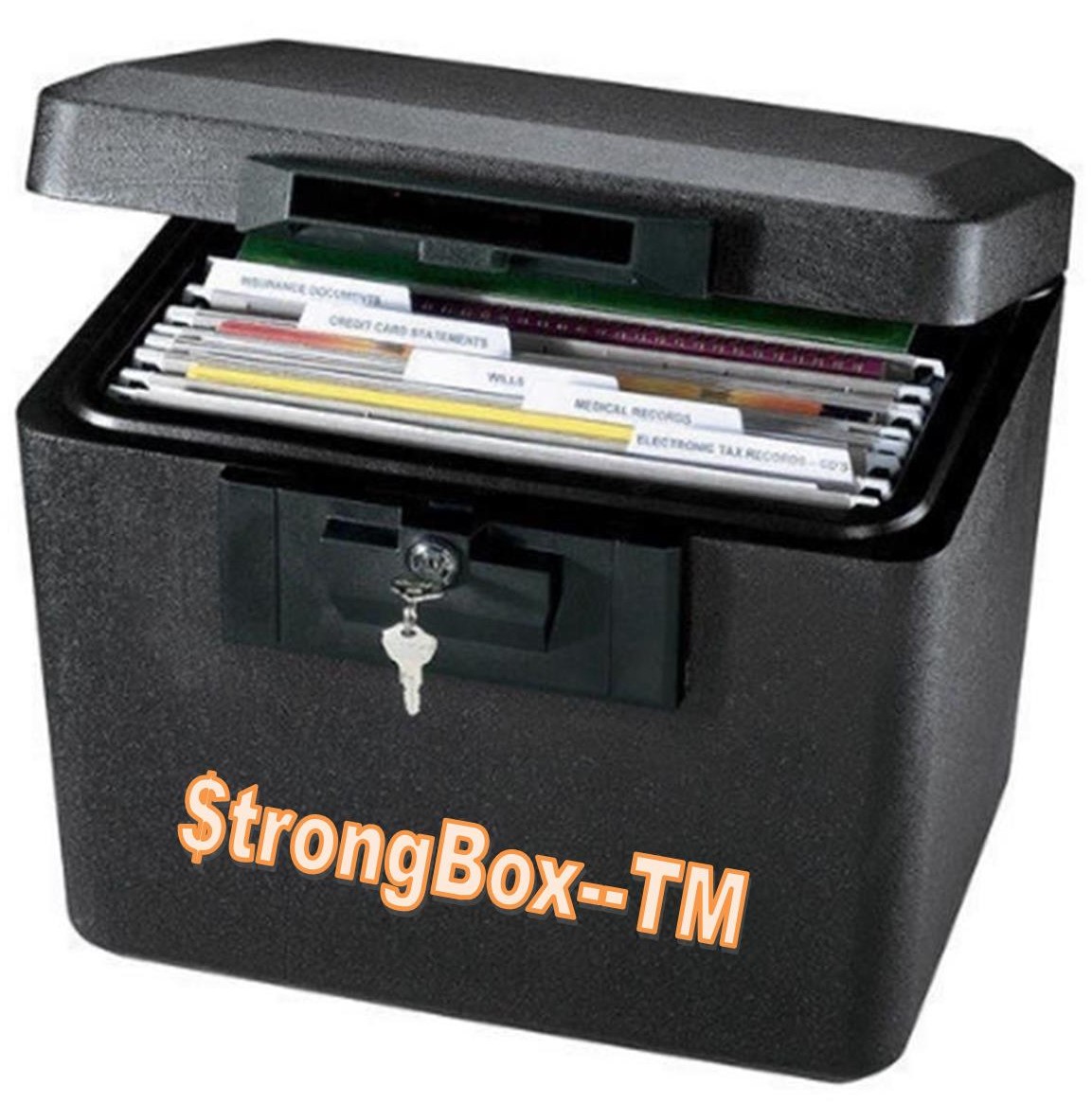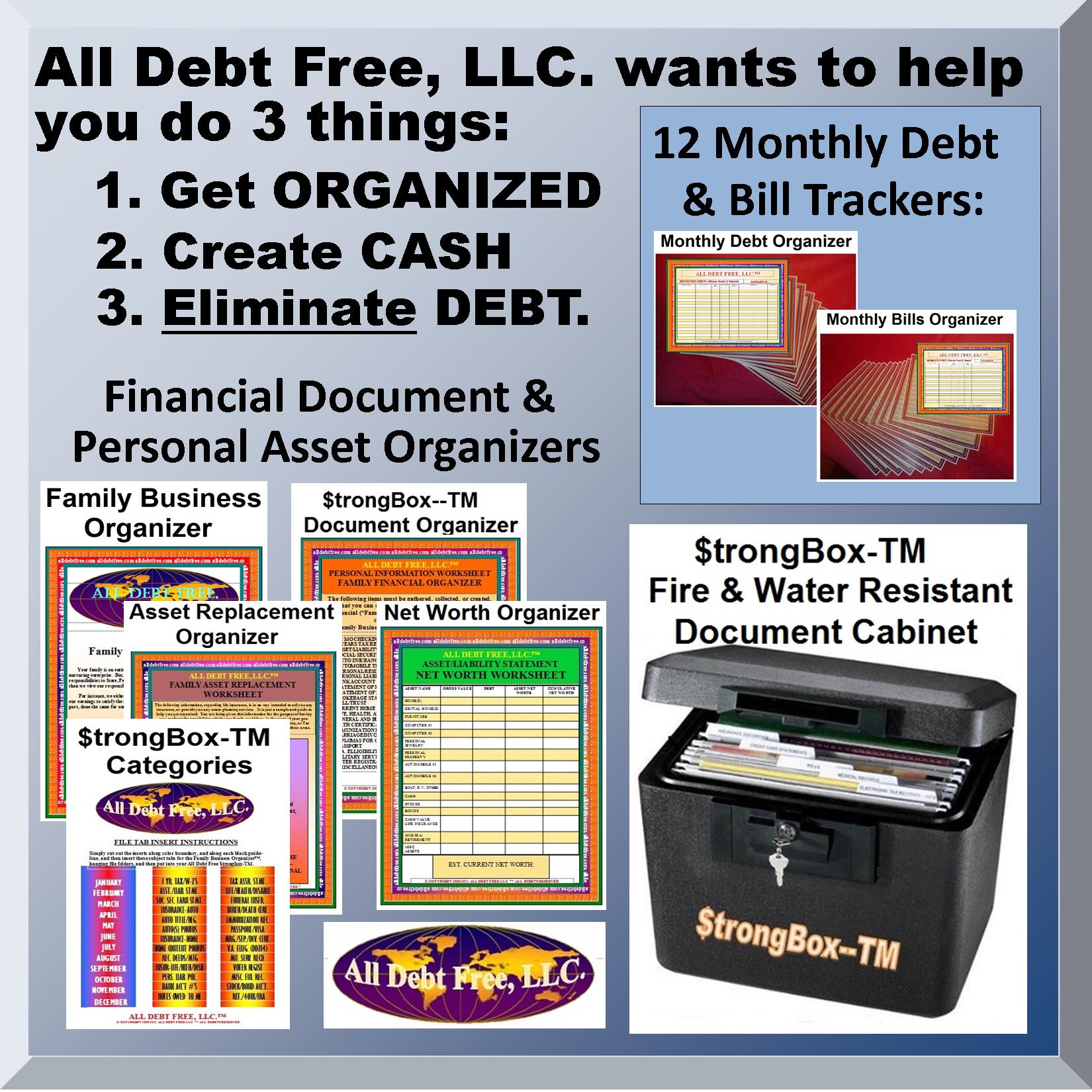 Note:  $trongBox–TM shown above is for illustration purposes only–the style is subject to change due to availability at the time of order.
The system we have created, is pretty much a common sense approach for an individual, or a family, to take the steps to locate, gather, and physically protect many valuable and important family business and family financial documents.  Where do you keep a copy of your Deed, Tax Returns, Auto Insurance, Life and Health Insurance Policies–even a copy of your Will/Trust, etc.  (Here's a thought…where would you safely tuck away some extra cash in the event of an emergency?)  When you run through the checklist we have created, you will see that these documents are very important–and sometimes very hard to replace against loss.  Also, there are many valuable things that just can't be replaced.  Not just documents, but family videos or photos–photos of the contents of your home–photos of jewelry–which can be so easily saved on a digital device, a copy of which could be more safely protected in the $trongBox–TM.  And, why not keep a bit of emergency cash in the $trongBox–TM–better protected against fire and water damage–for that "Rainy Day"! 
ORDER OUR PROGRAM–BECOME AN AMBASSADOR AFFILIATE–EARN CASH EACH MONTH WHEN YOU HELP OTHERS ORDER OUR PROGRAM.
The $trongBox–TM, and the organizer document tools, are available as a package, for $499.00.  When you purchase our program, you can become an Ambassador for All Debt Free. LLC.  As an Ambassador Affiliate Group Member, you will be given a unique code, which will allow you to receive a $150.00 fee, for each person you help join our group, who uses your unique code, when they obtain the All Debt Free Package for $499.00.
FREE GIFT WHEN YOU ORDER OUR PROGRAM.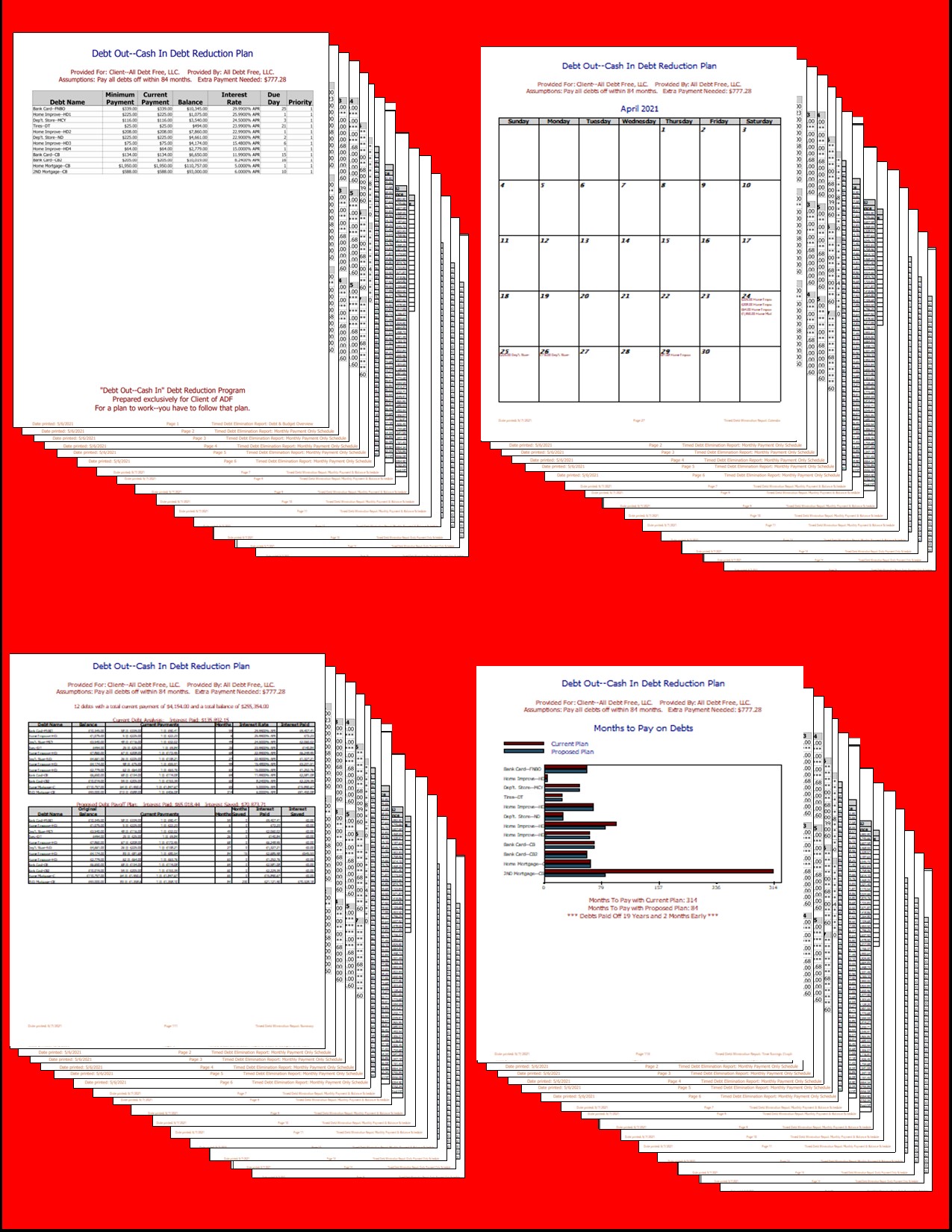 Here is our FREE REPORT–over 75 pages, which is customized based on YOUR EXACT DEBT.  We call it our "Debt Out–Cash In" Debt Reduction Report.  You can customize this report by choosing a 5yr-7yr-10 year debt payoff report.    We do not charge anything for this report…you have the opportunity to "OPT IN" to receive the report at no cost to you, when you order our "$trongBox–TM" financial documents/ valuables organizer program".  Then, we send the report to you in Digital Form.  You may choose to use the free information–(we hope you do) which may result in helping you with a strategy to become ALL DEBT FREE–in just a fraction of the normal time.  And, we may find that you can save THOUSANDS and THOUSANDS of dollars, in interest savings, as you reduce your payoff time, in accordance with the plan.  It will be fun to  see how much time and money you may be able to save, by following the plan.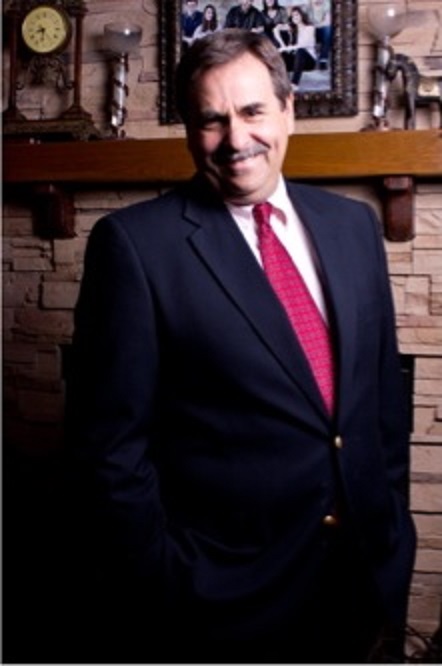 My Name is Dan Krison, and I wanted to say thank you for the time and consideration you are giving to the ALL DEBT FREE lifestyle.                                    The reason I created All Debt Free, LLC, was because I found myself paying on my debt, with no end in sight.  There had to be a way to create a method to account for the debt I had, and create a roadmap to getting my debt paid off more quickly.  Also, I quickly came to realize that I was quite dis-organized, in many of the important documents that I needed to be abe to manage the affairs of our household.                                                                                            Then, something unthinkable happened…a close family member had a house fire.  They lost all of their valuables, important documents, and most importantly, all the family memories captured on photos and videos.  Their house burned completely–only the valuables they had kept in their floor safe, escaped the destruction of the fire.  Because of the lesson I learned from their experience, I created a system to better protect our family's financial documents.  I named it the  $trongBox–TM.  It also allows me to better safeguard my important family photos, videos, and other valuable items.  As I started to get better control of my finances, I also created a strategy to pay off my debt more quickly.  This new strategy I created, is allowing me to reduce my interest costs on my debt, by over $60,000.00, and lower my debt payoff length from the previously scheduled 30 years–down to 7 years–including my home mortgage.
our content goes here. Edit or remove this text inline or in the module Content settings. You can also style every aspect of this content in the module Design settings and even apply custom CSS to this text in the module Advanced settings.
This presentation and supporting information are for educational purposes and should not be considered legal or financial advice and it is always recommended that you seek the advice of professionals.  You agree that we are not responsible for  the success or failure of your financial decisions relating to any information presented by our company or our representatives.